Diaphragm Gas Meters
American Meter AL-425 Diaphragm Gas Meter
IMAC Systems, Inc. is a stocking distributor of the AL-425 Diaphragm Gas Meter. Styles kept in stock are Temperature Compensated and Non-Temperature Compensated as well as 10 psig and 25 psig max operating pressure.
The AL-425 Diaphragm Gas Meter is a superior meter because the housing consists of a one-piece cast aluminum alloy body and aluminum alloy top and covers. American Meter diaphragm meters have an outstanding record for durability and reliability.
• Light, compact profiles
• Durable valve material to minimize wear
• One-piece body design to eliminate the need for machined joints and gaskets, and the possibility of internal leakage
• Molded, convoluted diaphragms for smooth operation and long life
• Low-friction seals
• Adjustable tangents
• Rugged flag rods for positive alignment and sustained accuracy
• Large, self-lubricating bearings
• Two-part epoxy primer and acrylic finish coat
• Automatic meter reader compatibility
Other meter sizes and styles are available upon request including Sensus (Rockwell / Equitable / Pittsburg / EMCO / Invensys / Equimeter) and Actaris (Sprague / Metris / Shlumberger) in stock.
*Connections are included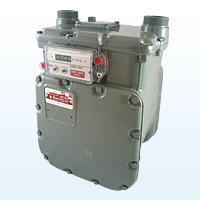 American Meter AL-425
Capacity: 425 ft3/hr
Max Operating Pressure: 25 PSI
Readout: N/A