Diaphragm Gas Meters
AMERICAN METER BKG-4 (G-4) DIAPHRAGM GAS METER
IMAC Systems, Inc. is a stocking distributor of the BKG-4 (G-4) Diaphragm Non Temperature Compensated Diaphragm Gas Meter. The BKG-4 (G-4) Gas Meter is top inlet and outlet meter in 5 PSI max operating pressures. This is perfect for many sub-metering and propane vapor metering applications.
The BKG-4 (G-4) Diaphragm Gas Meter is a superior meter for sub metering applications. The BKG-4 (G-4)'s compact size is desirable for multi-unit properties and all other submetering applications.
• Light, compact design
• Quiet Operation
• High Accuracy and Long Term Reliability
• Pulse Output Standard
• Available with ¾" or 1" NPT Connections
Other meter sizes and styles are available upon request including Sensus (Rockwell / Equitable / Pittsburg / EMCO / Invensys / Equimeter) and Actaris (Sprague / Metris / Shlumberger) in stock.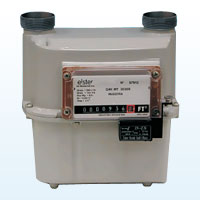 American Meter BKG-4 (G-4)
Capacity: Pilot – 200 CFH at ½" W.C. Diff
Max Operating Pressure: 5 PSIG
Readout: N/A
Applications: Indoor Use Only