Pulse & Instrumentation
Domestic Meter Pulser
The Domestic Meter Pulser is an economical and effortless way to retrofit residential and laboratory gas meters with a reliable pulse output.
• Economical method to obtain pulse output from meters with a front mounted index
• Fits American 175 thru 630 meters, (Rockwell) 175 thru 415 meters and all Schlumberger (Sprague) diaphragm meters
• Will install on any front mount meter index including laboratory test meters
• Rugged machined aluminum
• Sealed construction with internal stainless steel components
• Designed to resist tampering
Available in 2 / 1 / 10 / 500 / 1000 Pulse per revolution output.
Domestic Meter pulsers are supplied pre-mounted on a new index cover. This results in a very quick, error free and easy installation.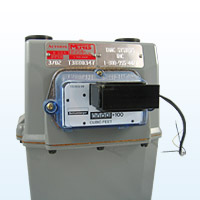 Domestic Meter Pulser