Laboratory Test Gas Meter
ELSTER AMERICAN METER DTM 200 & DTM 200A DRY TEST GAS METER
DTM (Dry Test gas Meters) are kept in stock at IMAC Systems, Inc. IMAC Systems is a stocking distributor of the DTM-200A Diaphragm Gas Meter (formerly known as the DTM-200)
The DTM-200A Diaphragm Gas Meters are highly accurate gas meters meant for laboratory test type situations. Elster American Meter diaphragm meters have an outstanding record for durability and reliability.
The Romet Rotary Gas Meter Advantage:
• Light, compact profiles
• Easy read 6 inch circular index with large sweep hand and four smaller totalizing hands.
• Temperature and Pressure gauge standard with DTM gas meter.
• Durable valve material to minimize wear
• One-piece body design to eliminate the need for machined joints and gaskets, and the possibility of internal leakage
• Molded, convoluted diaphragms for smooth operation and long life
• Low-friction seals
• Adjustable tangents
• Rugged flag rods for positive alignment and sustained accuracy
• Automatic meter reader compatibility
• Adjustable tangents for meter calibration
• Convenient wooden carrying handle.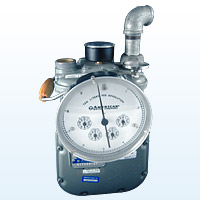 DTM-200A Gas Meter
Capacity: 200 CFH or 5600 LH
Max Operating Pressure: 5 PSIG
Measurement subdivisions range from .001 cubic foot to .01 cubic foot or from .01 liter to 1.00 liters. (Other measuring ranges also available depending on requirements)
Other meter sizes and styles are available upon request including Sensus (Rockwell / Equitable / Pittsburg / EMCO / Invensys / Equimeter).
Added Value Service and Options:
• IMAC Systems, Inc. offers a full calibration service with NIST Traceability
• Low and High Resolution pulses easily retrofit table available
• Convenient Wooden Carrying case for safe transportation.