Filters, Strainers and Scrubbers
HIGH PRESSURE INSTRUMENT FILTER DRYERS & CARTRIDGE REFILLS
IMAC instrument filter dryers and cartridge refills provide cost effective instrument filtration for pneumatic controllers, heaters, enclosure systems, and other instruments. IMAC filter dryers accomplish filtration down to 4 microns and remove particles, moisture, H2S, odorant, and other impurities that can affect instrument performance.
Different assemblies are available that include pressure cuts (regulators), gas conditioning (catalytic heaters), automatic filter switching and drain valve.
• Pressure tested to 1.5x Maximum Capacity, then re-tested fully assembled to max capacity.
• Individually serial numbered and certified
• In-stock item
• Epoxy coated corrosion resistant housing
• Spin on type media canister easily replaced in the field
• Canisters are interchangeable with other manufacturers
• Easy wall mounting
Models include (max capacity: 3000 cfh, maop 1500 PSIG):
• FD-19: Height: 6.5"
• FD-4: Height: 13.5"
• FD-5: Height: 20.5"
Optional equipment includes external and internal bypass manifold and inline moisture indicators.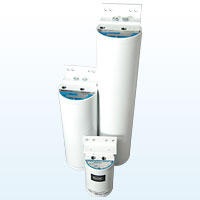 High Pressure Instrument Filter Dryers & Cartridge Refills