Filters, Strainers and Scrubbers
LOW PRESSURE INSTRUMENT DRYERS
IMAC Is proud to offer the Flo-Dri and NGS Drying Systems.
Flo-Dri
Flo-Dri Filtration and Natural Gas Scrubbing systems are designed for gas conditioning from natural gas wells at the point of use to remove aerosols, contaminants, H2S, moisture, oil and solids. This process eliminates the costly down time associated with instrument and catalytic heater failure caused by the presence of these substances. The system is engineered for long life, featuring easy cartridge change out, low pressure drop, low maintenance and low cost operation.
Features & Benefits At A Glance
• various sizes available for flow rates from 1 to 150 SCFM
• working pressures up to 250 psig
• variable flow rates with low pressure drop
• removes contaminant particles down to 0.5 micron in size, providing ultra clean gas for critical applications, thereby increasing performance and assuring longer equipment life
• 1/4" or 3/4" NPT inlet/outlet ports
• drain cock included
• patented "Quick Change" filters provide the easiest cartridge replacement in the industry
• a variety of cartridge media available, including Activated Carbon, Activated Aluminum, and Molecular Sieve
• designed and built in accordance with ASME standards; Canadian Registration Number (CRN) for type G-10
NGS1000
The NGS1000 Natural Gas Scrubbing System is engineered specifically for industrial applications with gas supply lines to equipment such as the Cata-Dyne™ WX, MKII and Slim Line Series of gas catalytic heaters and other gas-fuelled appliances. It is designed to remove contaminants found in fuel gas from natural gas wells, thereby reducing or eliminating instrument and heater failure caused by the presence of such contaminants. The NGS1000 is available in two sizes and also features a desiccant-based scrubber cartridge designed for easier installation and maintenance.
Features & Benefits At A Glance
• flow rates to 10 SCFM or 25 SCFM
• 250 psig standard design pressure
• particulate removal down to 0.5 micron in size
• maximum operating temperature of 93°C (200°F); minimum operating temperature of -40°C (-40°F)
• housing and cover materials are constructed from extruded, heat treated, machined and anodized 6000 Series aluminum; standard stainless steel Universal Mounting Kit
• standard 1/4" or 3/4" NPT inlet/outlet ports
• drain cock included
• a variety of filtration media available, including Activated Carbon, Activated Aluminum and Molecular Sieve; filter media change-out indicator plugs available
• interchangeable with existing applications
• designed to ASME Section VIII Div. 1; Canadian Registration Number# OH6573.213 is standard for all units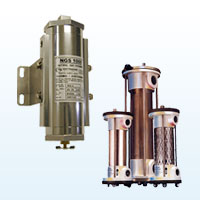 Low Pressure Instrument Dryers