Rotary Gas Meters
Rotary Gas Meter Electronics
The Romet Rotary ECM2 (Electronically Compensated gas Meter is an Electronic Volume Corrector (EVC) module that adapts and replaces the mechanical counter on the end of a rotary gas meter. The ECM2 has many advantages:
• Adapts to all Romet Rotary Gas Meters as well as other competitors (including Dresser LMMA series gas meters)
• Meter Rangeablility extended to over 200:1 with an error of less then +/- 1%
• Very low flow starts (0.8 cfh) for pilot flow rates
• Dual LCD screens, 3 stage Tamper proof, and system status monitoring.
• Front buttons or no button with removable portable remote
• Protected from power loss by non-volitile EEPROM memory that stores lst hourly volumetric indexes, set-up configuration and calibration or settings.
• Live flow rates to clock the meter and peak flow rates to check meter sizing
• Optional: Independent mechanical backup index (patent pending)
Different options available:
ECM2-T
Electronically Compensate Meter with temperature compensation and ability to program a fixed factor for fixed pressure compensation.
ECM2-PTZ
Live pressure factors, live temperature factors and live super-compressibility factors.
ECM2-AT
Live pressure factors, live temperature factors and live supercompressability factors as well as full one-way communications and full audit trail compatibilities.
*Other meter sizes and styles are available upon request.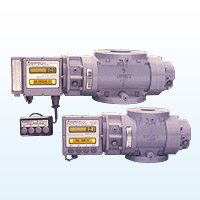 Romet ECM2
Capacity: Pilot-38,000 scfh
Max Operating Pressure: 175 PSIG
Applications: Indoor or outdoor use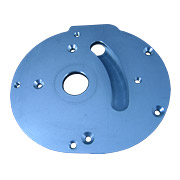 ECM2 Adaptor Plate