Turbine Gas Meters
American Meter Turbine Gas Meter
The American Meter Turbine Gas Meter is a highly accurate, reliable gas turbine meter suitable for both industrial in-plant metering and custody transfer applications.
• Maintenance free or flush-type bearing lubrication system
• Aluminum rotors for high-pressure models and meters with high-frequency pulse output
• Mechanical Drive Output
• Standard or Extended Capacity Ranges with 45 or 30 Degree Rotars
American Meter supplies variations of compact high-performance turbine meters. Each of these variations is designed to provide accurate totalization of high volume gas flows.
GTX meters are available in line sizes from 4" to 8" and a pressure rating of 175 PSI. These meters are a cost-reduced version of the GTS meter specifically designed for in-plant / submetering applications or where reduced maintenance is a requirement.
GTS turbine meters are available in line sizes from 3" to 12" and pressure ratings up to 1,440 PSI. The 4", 6", and 8" sizes are available with extended capacity ratings (30 degree rotor), which can reduce the pipe size of an entire meter run, resulting in substantial savings.
Low and high frequency pulse outputs can is available with the IMAC Pulsimatic and temperature/pressure compensation is available with the EVC.
Pictured to right: IMAC Mounting Kit allows mounting any instrument including Mercury Instruments to American Turbine Meter. Necessary for newer turbine meters.
*Other meter sizes and styles are available upon request.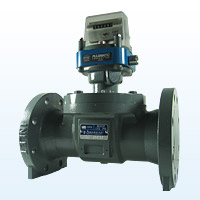 American Turbine Gas Meter
Capacity: 500-140,000 scfh
Max Operating Pressure: 175 PSIG
Applications: Indoor or outdoor use