Gas Meter Accessories
Vent Line Protector (VLP®)
The IMAC Vent Line Protector (VLP®) protects vent lines from intruding water. The Vent Line Protector is designed for use to keep water out of vent lines in zones susceptible to flooding such as homes or businesses near the coast, rivers or lakes, or low lying areas as well as pit or below grade applications.
The VLP® is a normally open assembly, but when submerged the internal float will float up and seal the vent line closed. When the water recedes, the internal float will drop allowing the vent to re-open to its normal state (even against a minor negative pressure).
The VLP® was designed specifically to protect natural gas and LPG regulator vent lines from flooding. This anti-flood device protects the regulator when subjected to flooding thru the vent line. When flooding occurs the regulator can become damaged beyond repair. Water and debris may damage components of the regulator causing corrosion of internal parts, operation failure, gas leakage, elevated outlet pressure and other potential liabilities.
As stated in NFP 54 / ANSI Z223.1 National Fuel Gas Code "Vents shall be designed to prevent entry of water, insects or other foreign materials that could cause blockage. At locations where regulators might be submerged during flooding, a special anti-flood type breather vent fitting shall be installed…"
IMAC Vent Line Protector (VLP®) Features:
• Gas Technology Institute (GTI) tested and approved
• Rugged Finish
• Construction Material: Body – Aluminum, Float - Polymer with High Grade Silicone Dry Seal, Screen – Stainless Steel
• Baffle Plates to prevent debris that may find its way thru the screen
• Normally Open, Positive Closed
• Internal guide zones to insure seal.
• IN STOCK
• Made In USA
Optional Accessories:
• Extension Loop
• Foundation Bracket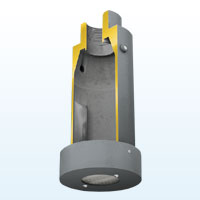 Vent Line Protector (VLP®)