Valves
USI LOCKWING BALL VALVE
The USI Lockwing Ball Valve is a Full Port Ball Valve available in ¾" through 2" This brass ball valve is rated to 200 PSIG. The Lockwing Ball Valve is tamper resistant and designed with a triple sealed "blowout-proof" stem.
The USI Lockwing Ball Valve is 100% tested, 300 PSIG air and water test in the open and closed position and 4 PSIG air and water test in the closed position.
This Lockwing Style Ball Valve is perfect for meter and regulator sets and bypasses.
• Maintenance Free (No Lubrication Required)
• 3/4" Thru 2" Threaded
• 3/4" & 1" Available with Insulated Fitting
• Quarter Turn
• Full Port
• Durable Nickel / Chrome Plating Available
• In stock ready for fast delivery
• Built in accordance to ASME B16.33
• CSA Certified
• Competitive Pricing
• Dry Natural Gas, Propane Gas, Butane, Manufactured gas and Air vacuum.
Accessories:
Tamper indicator – low cost, disposable one piece unit. The tamper indicator is a one time use indicator. Available in several different colors and in stock.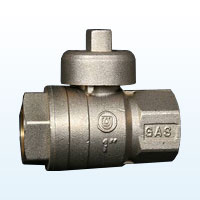 ¾" to 2"
Threaded
Operating Pressure: 200 PSIG